The truest blue hue | Through the lens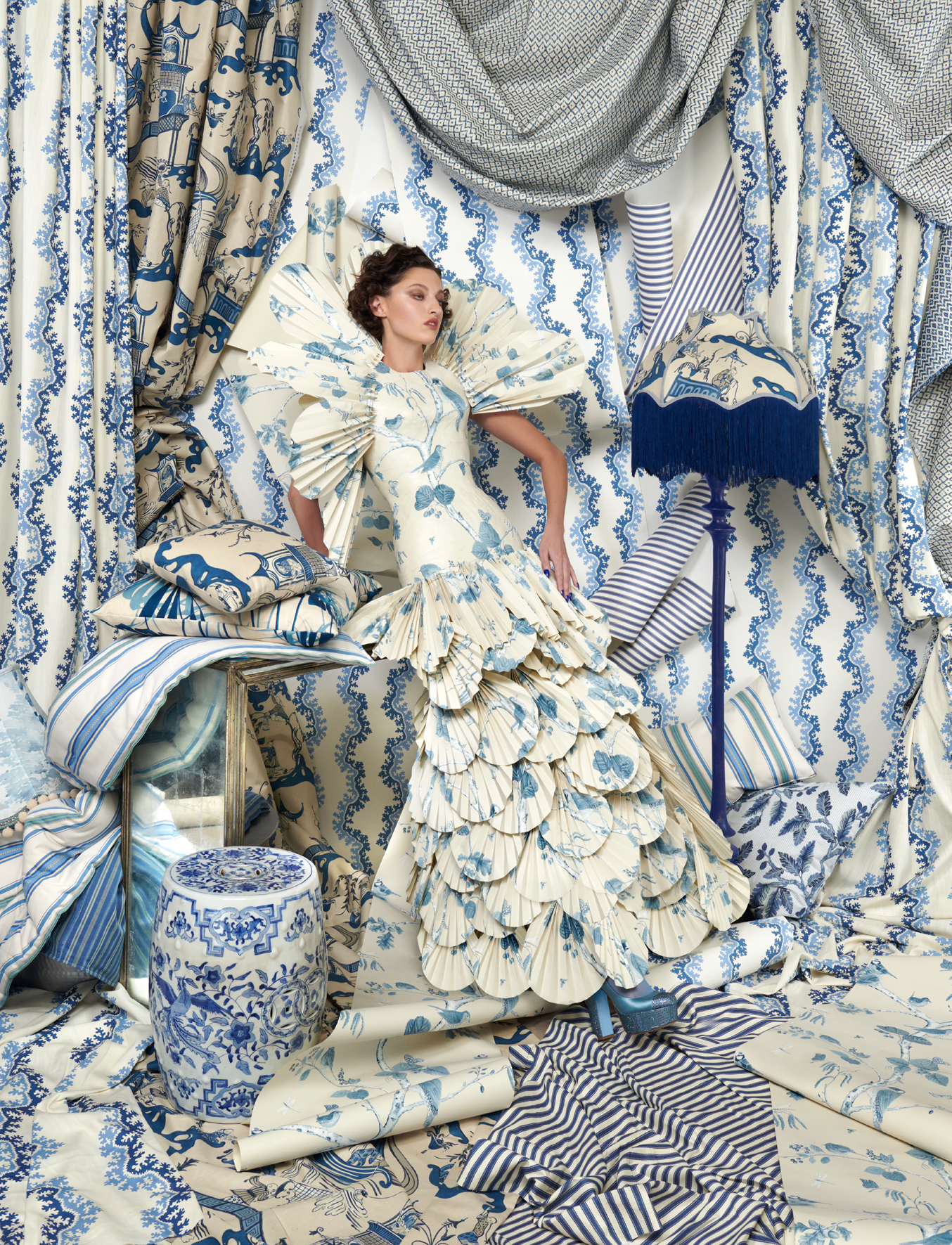 Reflecting our most renowned palette, shades of blue are captured through Damian Foxe's captivating lens
Damian Foxe, acclaimed photographer and stylist, has unfurled fabrics and wallpapers in a series of photographs, inspired by couture and brought to life through our iconic prints. 
Striving to create newness in the unexpected spaces of creativity, some of our most impactful designs, alongside new and enchanting prints from current collections, have come to pass in an intoxicating melding of pattern and texture, where blue and white, a primary palette of Sanderson's for many a decade, powerfully combine in the richness of this photography.  
Damian's work was informed, in no small part by the depths of the abundant archive, where originality and artistic legacy reside, swelling in beauty as the years move on.  
'A visit to the Sanderson HQ is like stepping into a completely different Universe. With its vast and resplendent archive… it feels like a world apart, where print and pattern take pride of place and a richly layered story starts to unfold.' 
Here, iconic hues, entrenched in our history, are reborn in Damian's enigmatic vision of legacy with whimsy and drama. 
Prints are awakened, the photoshoot itself a culmination of transforming old and new, celebrating the resplendent archive we treasure so dearly.  With our muse at the centre of the set, dramatic twists and whimsical scallop edges combine on set in elaborately layered visuals, fabric and wallpaper laying as fanciful bedfellows, celebrating our legacy and embracing a reimagining of our designs through a luxurious creative photography concept. 
This campaign throws back the covers on fabrics and wallpapers that have become synonymous with our legacy and celebrates them once again, with a new, curious focus on their beauty.  
Blue and white takes centerstage, with Indigo leading the charge in all its charisma. From Oxbow, Pagoda River and Cheslyn, which dance and swirl from ceiling to floor in undulating beauty, forming the backdrop for our beautiful model, bedecked in Woodland Chorus. The dress, crafted from wallpaper formed into fantails and dramatic collar is the star, while sartorial stripes of Valley Stripe and Pinetum Stripe adorn the frame in cushions and rolling papers.  
Our work with Damian Foxe is much more than an aesthetic choice, it is a new way of reflecting design. Back on ourselves and out into the world. Resonating with those who seek beauty through a legacy of design.
posted on 06 Jun 2023 in Interiors