Sanderson X Salvesen Graham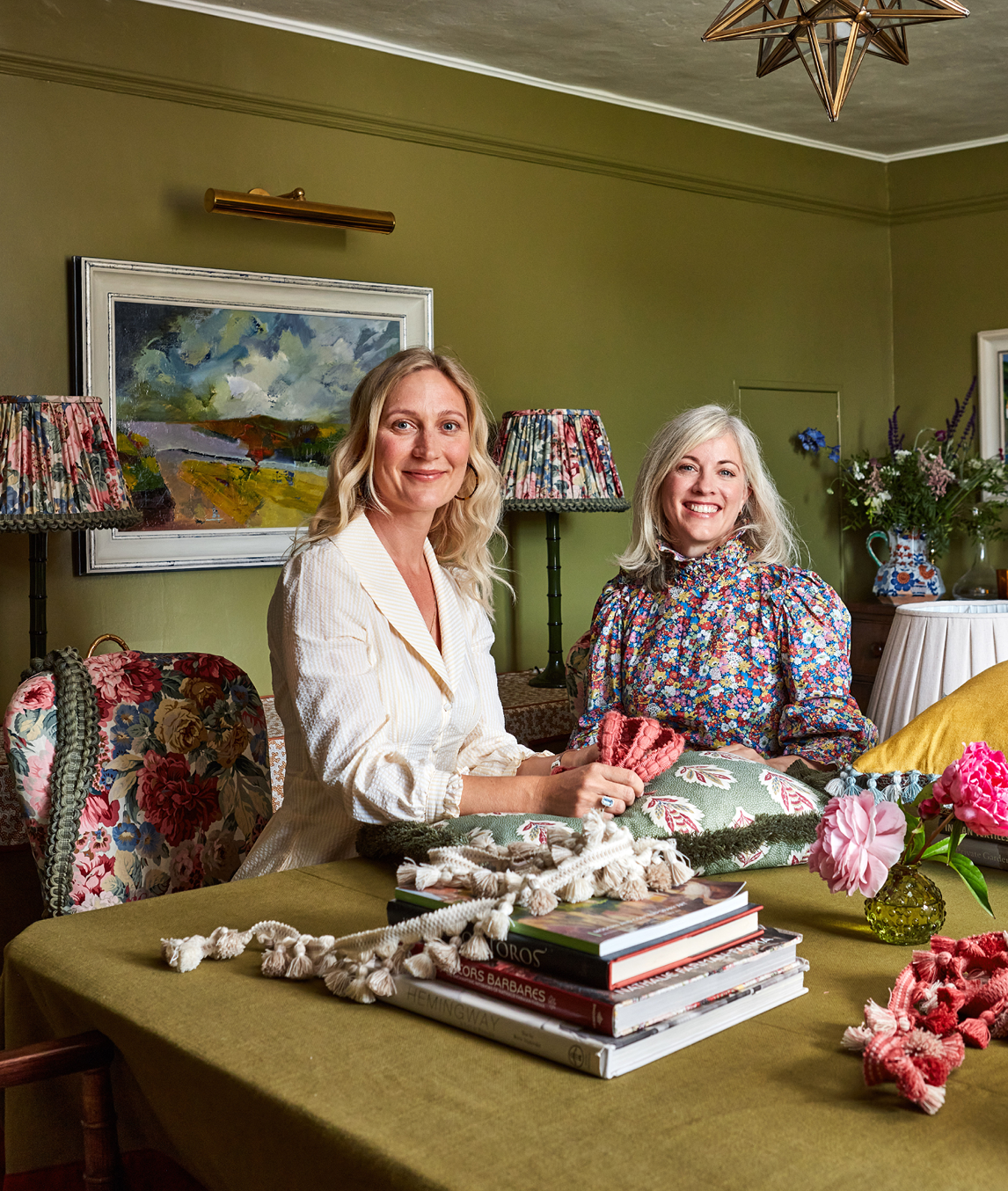 The quintessential English country home is adorned, decorated and embellished in exquisite new trimmings.
Marking a principal creative moment in our design chapter, we have collaborated with the inimitable design duo, Salvesen Graham, on an exquisite new trimmings collection, a first in over a decade. To complement this, Mary Graham and Nicole Salvesen, co-founders of the interior design studio, have curated a truly inspired edit of fabrics, wallpapers, and paint, that reflects on our past and present collections with a deep sense of nostalgia, and pushes the design envelope with considered layering for the ultimate English home aesthetic.
ALL THE TRIMMINGS
With over 10 years passed since our last designs, this collaboration with Salvesen Graham marks a triumphant return for trimmings to the Sanderson aesthetic. From classic fringes to fan braids, Mary and Nicole have lent their creativity to creating seven trimming designs across 10 colourways, a total of 36 pieces. These detailed creations take interiors to the next level; adornments in loops, stries and braids create a sense of nostalgia in their designs, while elevating fabrics and wallpapers. This exclusive addition of stunning trimmings comes in 10 rich and earthy shades including, Parchment, Hazel, Rose, Cranberry, Mustard, Rowanberry, Thyme, Autumn (a multicolour), Blue Clay, and Indigo.
These trimmings are bold and new but still retain a classicism that make them timeless. Much thought and consideration has gone into the selection of fibres used to create each trim that will stand the test of time, harking back to the classical applications of beautiful trimmings, but seeking to elevate modern interiors through the beauty of decorative adornments.
Together with Sanderson's designers, Mary and Nicole have designed and created an enduring collection of trimmings to adorn the home in quintessential British style with everlasting beauty.
THE COLLABORATION
Salvesen Graham is a studio known for its warm, inviting interiors that offer a retreat from the hustle and bustle of life. This exciting collaboration with Sanderson is set to offer up some of our most charming designs in a new light. With a quintessentially British edge, a flair for florals and Salvesen Graham's love of Georgian England styles, colour, texture and character combine in this thoughtfully curated edit and trimmings collection, to reveal inspired new looks for home interiors.
THE EDIT
Fabrics, wallpapers and paint colours have been selected from past and present collections, bringing together a new and exciting edit that layers textures, iconic florals and beautiful classic colours, for a wonderfully warm and inclusive series of looks that hint at just a touch of eccentricity, with a quintessential British nod to our restful rural landscapes.
A HOME TO ADORN
Within this distinguished collaboration, Mary Graham's own home has become the setting of a reinvention, where rooms have transformed under the skillful hands of the Sanderson and Salvesen Graham teams. Mary's Yorkshire abode has thrown open the doors to specially selected prints, wallcoverings and paints from our most classic designs, as well as the new, woodland inspired Arboretum and Pinetum prints collections, all part of the fine edit as put together by the design duo. With divine new trimmings to adorn and embellish upholstery and drapes, the bathroom, dining room and bedroom reveal our most treasured designs and new trimmings in all their glory; taking the old and blending the new to create a visual feast of some of the most splendid of Sanderson prints, patterns and colours.
posted on 30 Sep 2023 in Interiors