Escape to the country with @mymulberryhouse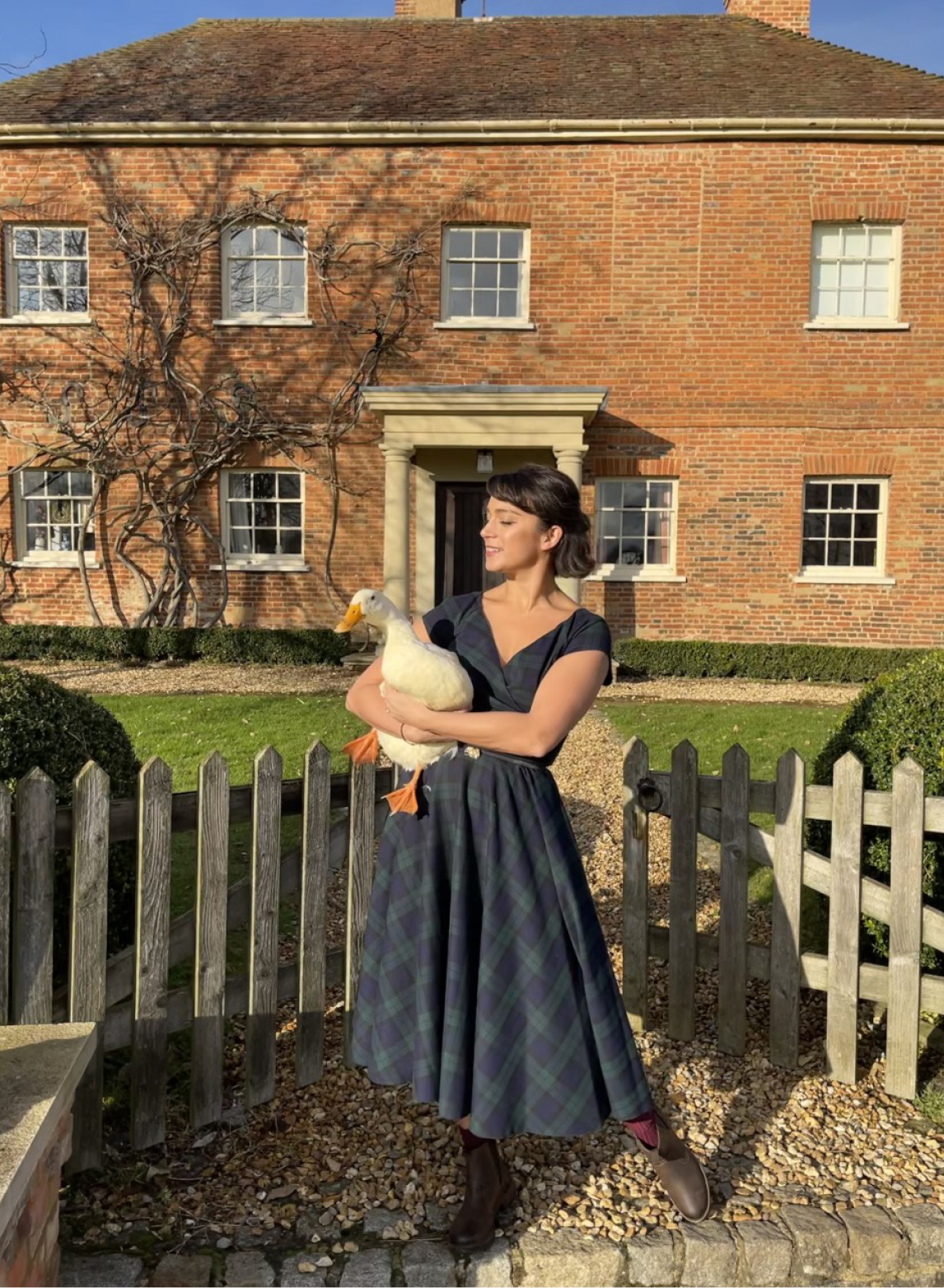 Step into the quintessential home of Instagram's @mymulberryhouse, where inspirational designs, antique finds and four-legged friends combine to curate the idyllic family home. We talk to Leah, as she explains how Sanderson paint helps bring colour and character to a timeless, country house style.
Q: Leah, please tell us a little bit about yourself, your home, and your go to style.
A: In 2015, my husband Ru and I edged up Mulberry House's gravel driveway in our smug "we-don't-have-children-yet" convertible to meet the handsome Grade II listed 1718 Georgian farmhouse that we now call home. We loved the house from the get-go and after spotting a deer in the garden, we were hooked. Shortly after, we packed up our 1.5 bed London townhouse and introduced cats Coco and Chanel to our newly acquired six bed, four acre property. Country living beckoned. We owned a pair of Hunters, enjoyed a jolly good walk (and a bloody Mary) - how hard could it be?!
Fast forward to the birth of our two sprogs, Raef and India, and my rapidly growing interiors imagination. As they grew so did my creativity and my first project, to design a whimsical, fun, but classic children's attic room beckoned.
It's fair to say that we've well and truly embraced country life, taking pleasure in the everyday and making ordinary details extraordinary. Flower stuffed vases bring the outside in, we collect eggs, and skulk around on porches. Free range children, chicken wrangling and nightie dashing. Spontaneous picnics with rudimentary nosebags of scotch eggs and sausage rolls
The house is filled with vintage finds and cherished antiques passed down through generations. I love embracing eclecticism and enjoy making a house feel well lived in (and elegantly knackered). I also enjoy bringing colour, textures and pattern into the home. I think cottage or English country house style are my go to, but Mulberry House isn't perfect. I don't believe any house should be. If it's lived in well enough, it's a happy home.
Q: What was it that drew you to the paint (Ming Gold) for your kitchen dresser and is there any other furniture you could see it working well on?
A: I was immediately drawn to Ming Gold. It has an earthy, well lived in sort of feel to it. It's bright, creamy and honeyed and I will definitely be using the colour on the walls in my downstairs loo as well.
Q: What advice would you give to those who are wanting to incorporate a bright colour into their kitchen but are apprehensive of this bold step.
A: I think colour in the kitchen can really help reflect your personality/emotions but also create an atmosphere and the "feel" of home. Colour can really support our daily lives, and Ming Gold is bold, but it's also rich, warm and grounded and inspired by nature which helps to make a house feel alive.
Q: You have so many beautiful quirky pieces on your dresser, where do you find such treasures?
A: Most of my finds are from antique shops or auctions, but that said, eBay and Facebook marketplace are treasure troves too. As the saying goes, one man's treasure etc.
Q: Would you use Sanderson paint in other rooms in your house, if so, where?
A: Absolutely. I'm looking forward to using Sanderson Paint throughout the house. There's a wonderful range of colours to choose from, so to start, I intend to brighten up the doors and frames of our bedroom and revamp my daughter's new attic room.
FEATURING: MING GOLD PAINT BY SANDERSON
Explore more design inspiration at @mymulberrytownhouse and order a paint sample here.
DISCOVER SANDERSON PAINT RANGE
posted on 09 Feb 2023 in Interiors