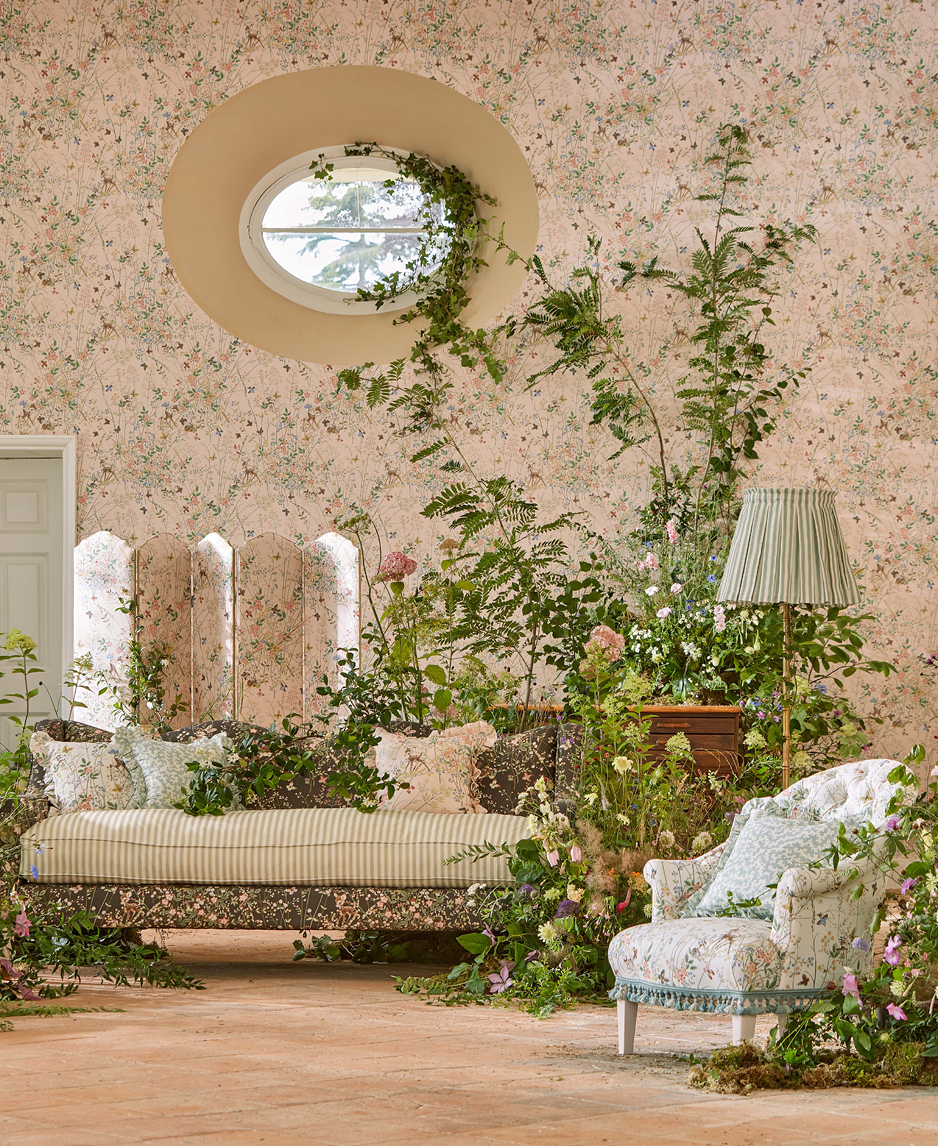 INSPIRED BY 100 YEARS OF CREATIVE HISTORY..
In a magical collaboration of whimsical beauty and iconic design, Disney Home x Sanderson is a nostalgic wander through childhood memories in the most delicious vintage hues, for a timeless and fun collection.
In celebration of Disney's 100th year, we have delved deep into the Sanderson archive to reveal a newly discovered selection of classic fabrics and wallpapers, sprinkled with a touch of Disney magic, for AW23. Here, Disney's Mickey Mouse, Minnie Mouse and Snow White have burst forth from the archive, been joyously recoloured and authentically reproduced in fabric and wallpaper, ready to bring whimsy and delight to interiors around the world.
Donald Duck, Dumbo, Winnie the Pooh, and Bambi all feature in this delightful new collection, pairing Sanderson's iconic palette with Disney's timeless, characterful aesthetic and universal appeal. As well as our incredible archive, original animation stills, posters, brochures and character guidelines have inspired this new range of designs. Cherished memories of enchanting characters burst to life in nostalgic, sweet dessert-inspired colours.
THE BEGINNING
Our collaboration with Disney began in 1928, the same year that Mickey Mouse featured in Steamboat Willie, where he captured hearts and minds to become a household name. As the 1930s dawned, so did the introduction of the Mickey Mouse newspaper comic strip – the perfect medium to translate onto wallpaper.
We were similarly enamoured with this soon-to-be iconic mouse and as we welcomed in the 1930s, Sanderson was commissioned by The Walt Disney Company to produce an exciting collection of wallpaper at our Perivale factory, followed by a range of accompanying fabrics, printed in Uxbridge, England.
In 1930, HRH the Duke of York, later King George VI, father of Elizabeth II and grandfather of King Charles III, visited the factory to witness this creative collaboration himself. His visit is documented in a series of photographs contained in the Sanderson archive, showing HRH admiring the work of the design studio and some of our early collaborative work with Disney.
Image: HRH the Duke of York, later King George VI, at our Perivale factory in 1930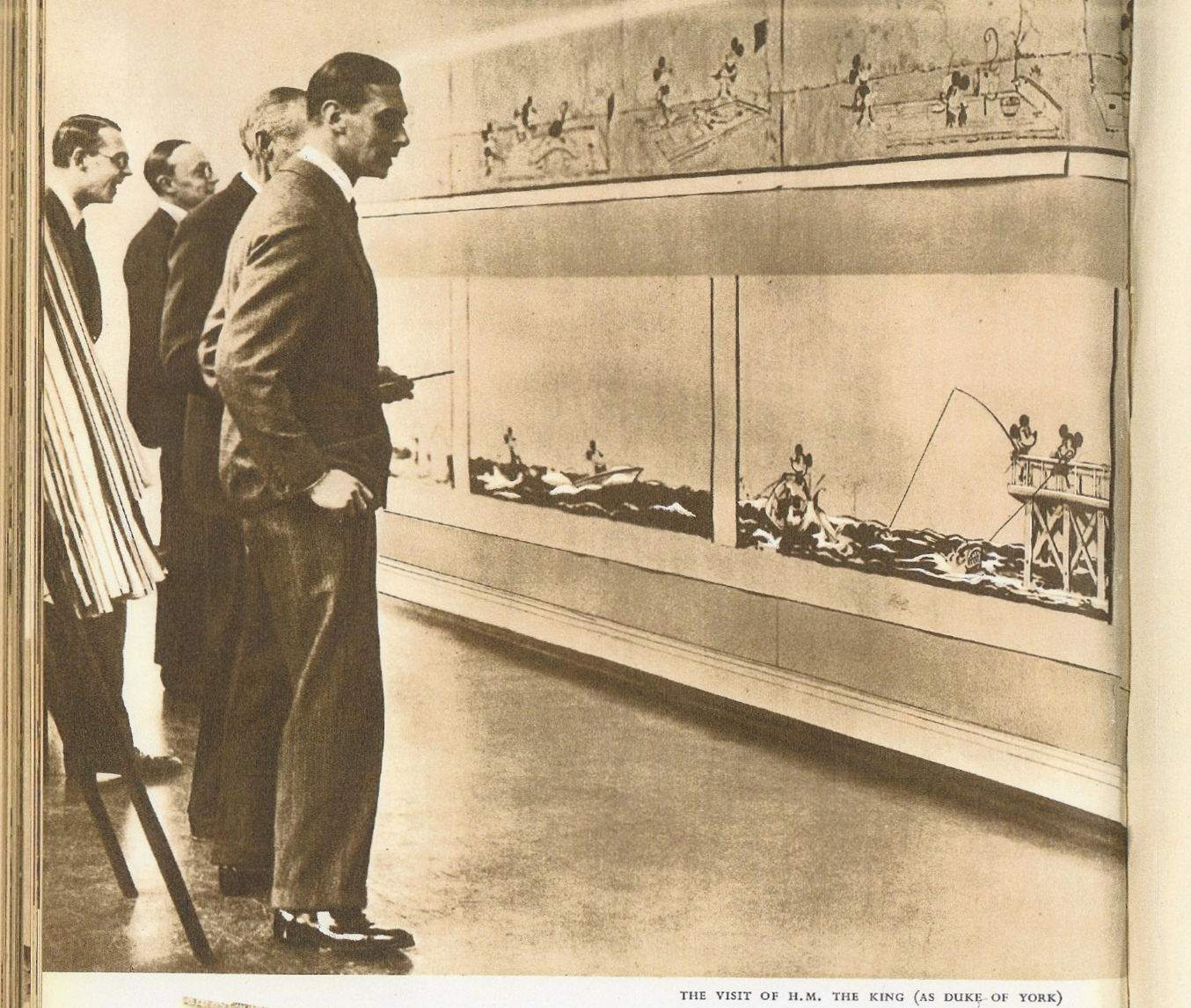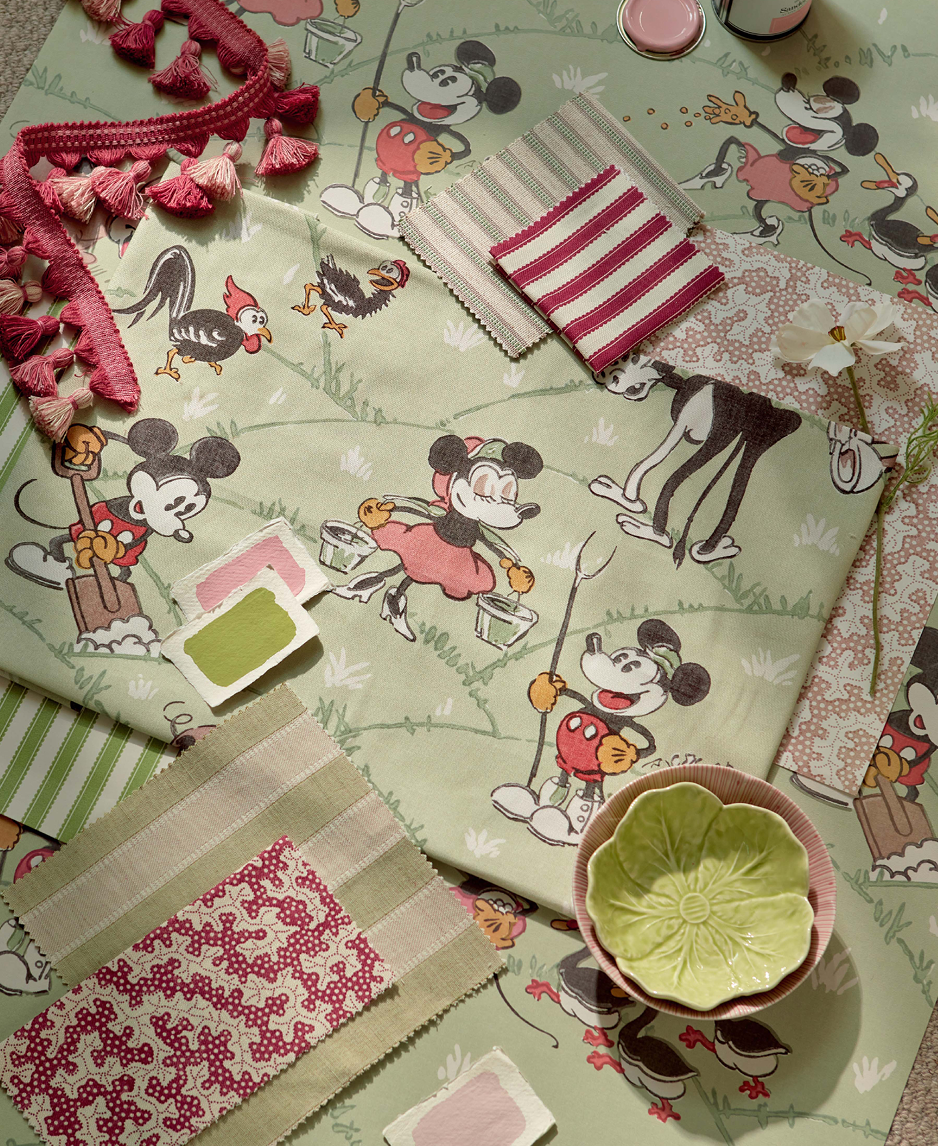 THE RETURN
Now, almost 100 years later, we are thrilled to introduce a selection of original and faithfully interpreted fabric and wallpapers, showcasing a cast of iconic Disney characters.
This magical launch incorporates 14 wallpapers and 12 fabrics in a palette of 25 delicious shades, including Puddle Blue, Whipped Cream, Sugared Almond, Macaron Green, Sea Salt and Chocolate. Each colour has been created to retain an archival look, akin to the original document, while at the same time, bringing each design to life in a way that's relevant for today.
From vintage memories, such as Bambi in his woodland home, meandering through our iconic florals in gently painted hues of Neapolitan and Sugared Almond, to crisp cool new classics like Mickey Stripe, an icon of enduring legacy, set against a bold backdrop of Humbug, these characters come reimagined but instantly recognisable. The twists on each tale, from Donald Duck and his nephews  sailing the choppy seas, to Alice in Wonderland attending tea, these classic designs have a fresh take through our new found love of vintage, chocolate box palettes, where Whipped Cream, Macaron Green and Sea Salt stir the senses and invite whimsy into home design, once more.
Mickey Mouse, Minnie Mouse and Snow White, to name a few, return with a sprinkling of magic for new captivated audiences.
DISCOVER THE MAGIC OF DISNEY X SANDERSON
posted on 15 Aug 2023 in Interiors